"I would certainly recommend MyBetterWeb and their A.I chatbot to anyone who has a customer facing website, the software is functional, easy to use and can only help your business improve its customer service." - Balthali Mountain Resort
The customer loves it because it respond within a few seconds.
They engage with the hotel in a live and contextual way.
Rich conversational data, for insights on customer satisfaction
The hotel knows who the customer is, what they have purchased before, and what their preferences are.
Price: $500 / MYR2000 per task
Enhance your guests' experience and leverage A.I as an additional revenue channel
The world has changed. 21st century travelers are always on and communicating via text, Twitter, WhatsApp, Messenger, email, and, yes, even the phone — often at the same time. They're 18 to 80 years old. They depend on mobile devices throughout all stages of travel. They prefer online and digital communication (Social Media) to human interaction. And above all, they expect speed in service delivery.
Deploy a chatbot for your hotel website
Chatbots can help hotels in a number of areas, including time management, guest services and cost reduction. They can assist guests with elementary questions and requests. Thus, freeing up hotel staff to devote more of their time and attention to time-sensitive, critical, and complicated tasks. They are often more cost effective and faster than their human counterparts. They can be programmed to speak to guests in different languages, making it easier for the guests to speak in their local language to communicate.
All these services available anytime – before, during and/or after the stay
Additionally, hotel guests can be encouraged to give feedback via an integrated review function. This way, hotels can collect their own hotel reviews directly from their guests, when the guest are still staying at the property (and not 2 days later). It also positively affects ratings on Tripadvisor & Facebook, of course.
How is A.I Chatbot for Hotel works?
1. A room reservation module (payments are subjective to certain countries)
2. A virtual concierge (FAQ, information about local bars and restaurants, etc.)
3. Promotion of internal services (room service, spa, etc.) to increase your RevPAR
4. Integrate external services such as food/supply providers or content providers such as Tourism Board agendas into the chatbot.
5. A review module that increase the number of positive reviews on Facebook.
Dom Himalaya is a famous boutique hotel in Kathmandu and they receive a lot of inquiries on Messenger daily. We build a chatbot for them to automate hotel booking process and answering to questions on the spot. You can chat with the chatbot here.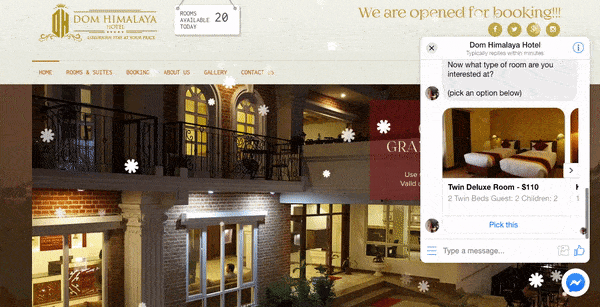 Balthali Mountain Resort is a luxury resort located on top of hill. We build a chatbot to not only handle room booking but also tour booking, event management and all kind of hotel services now on automation. You can chat with their bot here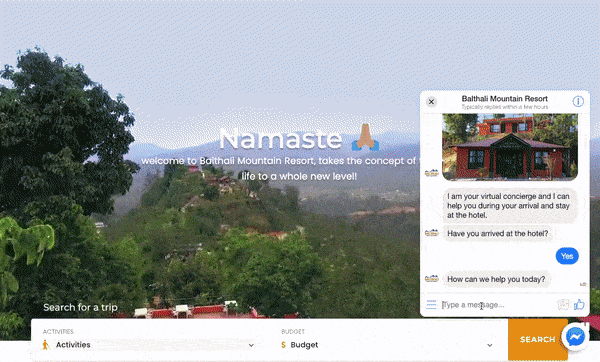 "MyBetterWeb did a great job on our video, turn around time was fast and changes we requested were fulfilled without a question." - ShiShu Tours & Travel Pvt. Ltd.
Price: $200 / MYR800 per task
Make your video more interesting to watch!
Our Time Lapse Video Editing Service makes the video clip appear faster than when it was initially captured. Just imagine you have to watch the entire process of a plant growing. With time lapse video editing, you can see this entire process in few minutes or even seconds depending on how the video was edited.
How holiday video editing works?
Our Time Lapse Video Editing Service offers in-depth editing with a microscopic accuracy of capturing the event. We are keen on every detail and choose the most exciting scenes to produce a mesmerising work of art. These videos are best used to cover commercials and movies with the use of special sophisticated cameras. Time lapse video can be done using normal speed recording, plus a professional time lapse video editing software to speed up the video. Another means to do this is by using cameras with built-in time lapse features which allow the camera to take videos in intervals of say 1 second in every 30 seconds.
Some events can last for hours while others last for just an hour or even less. Whatever the duration, it is sometimes boring very arduous task to watch an event in its entirety, especially events where you don't notice much change. With our Time Lapse Video Editing Service, you can watch such events faster without feeling bored.
"Thanks very much, the result is great. It shows attention to detail and care for capturing the essence of the holiday." - oshoadventure.com
Price: $250 / MYR1000 per task
You shoot! We edit!
Are you going on holiday? Well, we edit holiday videos. Photographs are great, but if you were thinking of filming whilst you were away, then we can edit all the best bits together. We will edit your footage to your favourite music, and create a video that you will want to watch again and again. Whether you are using your Iphone, GoPro or video camera, it doesn't matter. We can still edit it together to create a professional video.
Specialized holiday video editor
They say that the best things in life involve spontaneity and adventure, and that's certainly true for videos of your holidays and travels! However, there's one thing that's even better than being in the moment of an amazing adventure, and that's getting to share it all via video with friends and family. At MyBetterWeb, we turn your holiday video footage into an unforgettable journey.
How holiday video editing works?
Use any device to record your memories. Upload your raw footage and pictures to our secure server and make a 25% down payment.
et us know your favorite clips and let us do our magic.
We will cut, edit and produce a first draft for you, quickly and efficiently.
Review your video; let us know of any changes and we'll keep editing until you're 100% satisfied.
Make full payment for the finished article.
Download your video from our secure server.
"The team did a great job! They took the footage of my project that had specific needs with narrow margin for error and nailed it and then some! They made us look great to our client!" - domhimalaya.com
Price: $250 / MYR1000 per task
Expert drone video editing
Video drone footage offers endless possibilities. Whether you're hosting a corporate event, family party or just want to get an eagle-eye perspective on a particular location, we can help you create outstanding drone videos from your footage that will have a lasting impact on your audience. At MyBetterWeb, we make sure your footage is edited to perfection, delivering superior quality videos and a fantastic finished product.
High flying holiday
Holiday video drones make your holiday videos even more memorable, allowing you to put a whole new angle on your holiday fun. With skilled holiday video editing, you can relive those special moments from your holiday whenever and wherever you like.
Drone wedding shot
Drone wedding videos are one of the latest trends in wedding videography. This exciting technology allows you to capture your wedding function from up high and recount your story from a completely different perspective. With the best professional editing of your drone wedding footage, you're guaranteed to have wedding video memories you can cherish forever.
A new property prospective
Drone property videos add clout to any real estate portfolio and give you an aerial view of any construction project.With property video drones you can see everything in all its glory. With the right editing and a high quality drone property video you can showcase a whole new aspect of your property and maximise its appeal to potential buyers.
Sky high sports action
Video drones are now playing a key role in reporting news stories and sports coverage, bringing a different viewpoint to all kinds of events. To maximize the impact of your filming it's imperative to utilize slick editing expertise to bring all your sports drone video coverage together into a powerful finished piece.
How drone video editing works?
Contact and tell us about your project and make a 25% down payment.
Upload your video footage to our secure storage.
We will cut, edit and produce a first draft for you, quickly and efficiently.
Review your video; let us know of any changes and we'll keep editing until you're 100% satisfied.
Make full payment for the finished article.
Download your video from our secure server.
"MyBetterWeb helped us distill our message quickly and painlessly, which was worth every penny." - ultranet.com.np
Price: $150 / MYR 600 per task
2 minutes or less
Clear and concise
Conversational tone
A focus on benefits not features
Specific call-to-action
Engage with the viewer
An explainer video (also known as a homepage video, overview video or conversion video) is designed to explain your company, product, service or subject in a way that your audience can understand in two minutes or less. Most explainer videos cover four key points: the problem, the solution, the features and benefits, and how the solution works.
More than just explainer videos
The key to a solid explainer video is keeping it short and engaging, while still conveying the right information. No matter what you're explaining, an explainer video should leave your viewers with a clear understanding of what you do and a desire to take the next step.
Create a concept for an explainer video
Using animation to explain your best features, you can imaginatively show the real differences between you and your nearest competitors - while we work unflaggingly to develop the brilliant script & images you need to keep on winning.
Explainer animation video
You can demonstrate how your process or products work by telling a story. Or use animated characters to relate to your customers. Explainer Videos can take on a 'tell not sell' approach to educate your audience - or go route one with a full-on sales message.
Infographic video
If your message has a lot of data or needs to explain a complex solution - then explain it clearly with an infographic video. By showcasing your stats & business processes you'll generate a credible proof of claim that will give buyers peace of mind. An Infographic Video is a uniquely visual style - built from a foundation of animated captions and charts in a persuasive clear way.
How animation video editing works?
Brief
Tell us your ideas and we'll respond with creativity ideas, you can make a 25 % deposit before project is commence.
Talk
Have a one-to-one with an experienced animator and illustrator who are there to listen.
Meet
Exchange ideas over meeting (or online meeting) so the video message and your brand are in tune.
Script approval
Most important part of the process. The right words for your audience.
Storyboard
Images to go with the script. See on paper exactly how it will look.
Production
Collaboration continues and the team get to work. Animator, editor, sound artist.
The Show
It's 100% ready and exactly what you want, take a bow. You did it!
"We were looking for a firm which could handle our full online marketing campaign. They managed PPC, SEO and SMO for us. Since then our online booking has increased considerably. We recommend MyBetterWeb for online marketing" - nyornyar.com.my
Keyword research for a solid foundation
Competitor campaign analysis
Campaign creation and Ads copy creation
Landing page design and development
Detailed reporting and monthly meeting
Price: from $500 / MYR2000 per month
Detailed monthly ads reports
At MyBetterWeb we manage your Facebook & Google Ads account targeting the keywords that will drive buyers to your site. Highly focused keyword research will determine the most cost-effective approach to obtaining customers who are searching for exactly what you offer. Through the various research tools we use, we will develop effective paid search campaigns focused on meeting your target cost per sale or lead.
eCommerce focused ads strategies that drive sales
By investing in paid ads, you will assist highly eager buyers in finding your site who wouldn't necessarily find it through organic search engine optimization techniques. Our end goal is to create an campaign with a high ROI (return on investment) that allows your company to spend wisely and grow profitable month after month.
How is Facebook Ads works?
If you have opened your new boutique store and you want people to know about your store in your area and out of your, there can be one way like creating a Facebook page of your shop. You can post everyday on your page about your shop, about new products and services which you are selling, discount offers, etc. This is marketing strategy which you can use with the help of Facebook. You will also be able to create campaigns and ads for businesses but they are paid. These campaigns and ads are genuine and you will get most of the likes for your campaign. People subscribe to these campaigns and ads to get lot of visitors for their posts.
How does Google Ads campaign management work?
1. Paid Campaign Analysis & Implementation
With an established Ads account we will analyze historical data to find what performs most favorably, and tailor other parts to perform in a similar fashion. We will then change bidding options, keywords, ad text, and destination links to align with our goals. The goal is to drive as many leads and/or sales as possible per dollar spent.
2. Conversion Tracking & ROI Analysis
Our reports show which keywords are creating leads or sales and which are not. We monitor this to be sure we are focusing on the keywords that are working best and targeting specific phrases.
3. Search Network Advertising
We monitor progress and engagement of your search network advertising to adjust bigs, ads, and keywords to best reflect the traffic that will engage most positively on your site.
4. Ad Variation & Testing
Multiple ads will be tested using A/B testing methods to determine which ads lead to the highest click-through and conversion rates. We will also develop landing pages, copy variations and test which work best.
5. Monthly Maintenance
All aspects of the account will be reviewed each month to determine what areas can be improved and to be sure the campaign is running smoothly. Negative keywords and changes to your keywords will constantly be made to improve results.
We managed Trekking Top Nepal facebook ads campaign for a month. They gained better visibility and more than 6k interest-oriented new fans are engaging with their posts everyday.
"MyBetterWeb is a cutting edge company that really "gets it". Attentive, friendly, and knowledgeable staff. As a client for past few months, I can say with complete confidence that they are going to work very hard for you. The results speak for themselves and our company is quite impressed with the work they have done." - ultranet.com.np
Proven techniques
Transparent detailed monthly reports
Certified Google Partner team
Technical capabilities
SEO services with proven results
Price: $500 / MYR2000 per task
Proven eCommerce SEO strategies
We create monthly reports that include all of your website's key metrics (conversions, sales, traffic, rankings) and summarize exactly what work was performed on your website. After analyzing our results and progress, we'll setup a call to discuss your monthly report and review our plans for the following month. This monthly process allows us to evaluate the effectiveness of our strategy in real-time and channel more energy into strategies that have a proven, direct impact on your bottom line.
Expert SEO team with Google certification
Marketing your website through search engine optimization (SEO) is just as important as the way your website looks and functions. SEO can have a major positive impact on your visibility and it's important to choose a professional search marketing agency that understands search engine algorithms and is experienced in providing tangible results. We've helped companies increase traffic by over 500% in less than 6 months and grow sales by hundred of thousands of dollars. Our search engine optimization services (SEO), will help display your website toward the top of organic search results for the keywords most important to your specific business.
Osho Adventure traffic is on a steady growth from 0 to 1000+ within a month after we implement seo optimize on their new site.
"MyBetterWeb helped us set up the campaign, build highly converting landing pages and they manage our campaigns constantly. We get many of leads a month and couldn't be happier with their service!" - trekkingtopnepal.com
Reduced load time
Low bounce rate
Mobile friendly
Adjustment on any browser
SEO optimized
Increase the number of visitors
Price: from $600 / MYR2400
Accelerated Mobile Pages (AMP) has greater SEO visibility on mobile devices
The mobile users are growing day by day and AMP 85% faster than non-accelerated mobile pages. The principle benefits of accelerated mobile pages are that they are faster loading pages for mobile users. It reduces load time, decreases bounce rate, provides enhanced SEO and can easily adjust to any browser. While many website owners are looking to implement Google AMP pages, there are good reasons for you to implement it earlier than others.
The Google AMP web design
An accelerated mobile page is a light form of a web page which is architecture for mobile devices. They are created by cutting down the amount of JavaScript and HTML that is used in creating the website. Our AMP developers are using the bare minimum amount of HTML and CSS for creating your accelerated mobile pages design.
Better customization, the best possible performance of your site
In order to have a better user experience and user interface for mobile devices, you need to have a new standard for building websites. Google Accelerated Mobile Pages is the new way to target your audience using mobile devices. The AMP can make your site rank higher on Google and can manage SEO with adding many benefits. The implementation of AMP will tend to work great and is used by many SEO Company across the world. The AMP is available with super-powerful content management system which reduces the loading time.
How is Google AMP website works?
1. Load web pages faster
If AMP is used while creating your website, your web pages will get loaded quite faster. This will enhance the experience that your users get from visiting your website and this creates your good image.
2. Increase in number of visitors
If AMP is applied to your website, as said earlier your web pages will load faster. This gives an outstanding experience to the users when they visit your website. This makes them remain on your website for more time. This also increases the number of visitors to your website.
3. Increase in conversion rates
If you have a website with AMP, you will definitely experience increase in conversion rates. This is because as your web pages load faster, visitors will remain on your website for more time. As a result, the visitors will visit more web pages on your website and they may get convinced to buy products/services. This certainly increases the conversion rates.
4. Increase in mobile viewership
By using AMP, you will observe that the mobile viewership of your website will increase. This will in turn increase your business.
5. Increase in efficiency
If you use AMP in your website, the efficiency of your website is going to definitely improve. This will in turn improve your business and sales.
Trekking Top Nepal is a mobile optimized travel agency website with online booking function and an AMP cached version.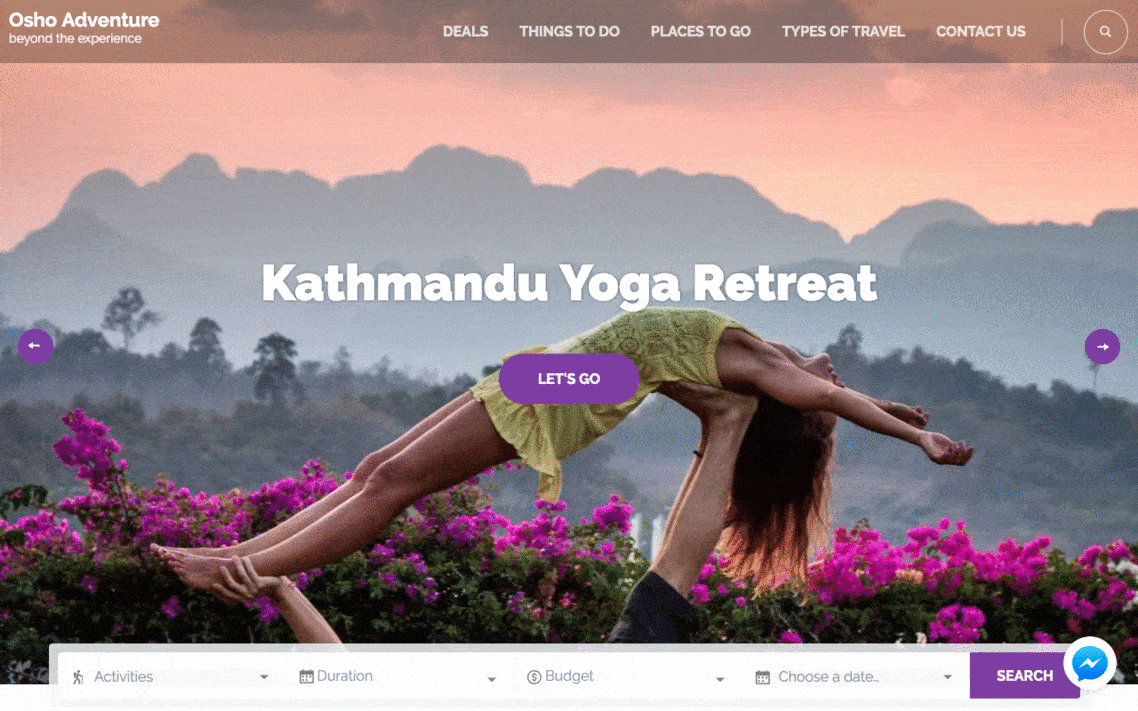 ShiShu Tours is an online tour booking website with AMP cached version.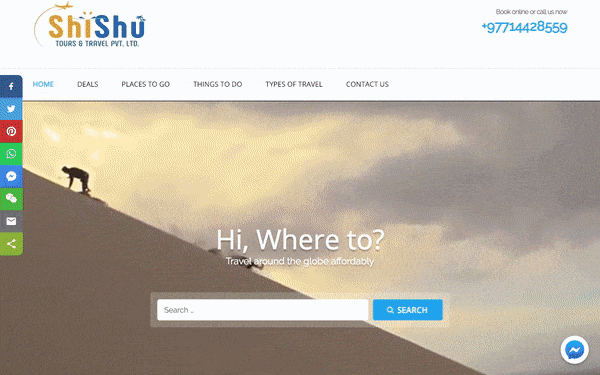 "We were looking for a company we could build a relationship with. We've dealt with a lot of people working out of their basement, and we needed to take it to the next level. Communication is excellent and they do what they say they are going to do." - usoft.store
Price: $700 / MYR2900
eCommerce website design that takes your business to the next level
We've worked on many eCommerce projects and know what it takes to generate sales. Utilizing responsive web design, your eCommerce website will be optimized for desktop, mobile and tablet shopping. With platform features like unlimited products and categories, to a secure one-page checkout, we make online shopping easy for customers to buy online and easy to manage for website owners.
Custom eCommerce functionality to streamline your business
From selling a product or subscription, to taking payments for a service, our team can develop the custom eCommerce website solution that's perfect for your business.
The eCommerce website features you need to succeed
Having a robust eCommerce website is the foundation of your online retail business, and we understand the importance of utilizing the latest technology to increase your profitability. Our eCommerce solutions offer the best in standard features and functionality while remaining completely customizable:
Drive Sales Across All Devices
With a desktop, tablet and mobile responsive eCommerce website, you'll be able to increase your conversion rate and online purchases to grow your bottom line across all devices.
From Homepage to Checkout, Fast!
Developed using the latest technology and standards, you'll have a blazing fast website that allows customers to go from browsing to checkout in seconds!
Robust Product Features & Capabilities
Whether you have basic products or need product customization, unique product options or a whole set of custom product functionality, we've got you covered.
Easily Manage Your Content & Scale
Through a well-designed content management system (CMS), you can easily update pages, categories, products, articles, posts, banners and more.
A Powerful Marketing Suite
From advanced search engine optimization tools to running promotions, our sites are built to give you a suite of powerful marketing tools. Run BOGOs, create landing pages and drive revenue to your eCommerce website.
Usoft Store is an eCommerce online shop with a.i order taking automation features. Try to shop with the chatbot here.
"I love my website! It's beautiful, professional, and easy to navigate. MyBetterWeb was a great company to work with. As a business owner, I definitely appreciate their great customer service, projects done in an efficient and timely manner, and a final product that exceeded my expectations and also made us won Malaysia Website Awards 2017." - Khimyan Curry
Perform on all devices
Manage one code base
Rank higher
Easy mobile checkout
Mobile optimized speeds
Price: from $450 / MYR1800
Professional web design and eCommerce website design
Your website is the core anchor for your digital business and marketing efforts. Having a great website user experience requires understanding the problems different visitors have to solve. And there is a difference between responsive design and a completely separate mobile website. Both can be beneficial at times. If you want the same content on your mobile website as on your desktop of your website, responsive design is the way to go.
Rank higher in mobile search results
But, if you're looking for a mobile version that is extremely limited or a stripped down version of your full website, a separate mobile version may be a better option. The advantage to responsive design is that it allows the website to use the same code and same files for all displays, while a true mobile version is a separate code base.
Best user experience for increased online revenue
As mobile and tablet traffic continues to grow at a rapid pace, the need to have a site optimized for these devices is a necessity. Whether you have an informational website or an eCommerce website, responsive design allows for your customers to easily view, navigate and ultimately purchase from your business online.
App-like website feel & functionality
With responsive design the need for a separate mobile site and tablet optimized website is eliminated and your website will automatically "adapt" to the device it is being viewed on. You'll end up with a site that looks great on a mobile device, tablet, desktop computer and everything in between.
Ultranet Communication is a business with online shopping eCommerce site.

"The overall design and functionality far exceeds my expectations. Your dedication, constant engagement, and responsiveness made the process easy. You really went above and beyond! I'm already looking forward to having you build my next site." - thapa.coffee
Price: from $550 / MYR2200
Complete custom design and creative
With MyBetterWeb each corporate website is custom designed and developed to meet the needs and goals of your business. Our mission is to provide your corporation with a professional, branded website that'll set your business apart from your competitors. Ease of navigation and calls to action are always in the forefront of our design process and websites that produce results are what MyBetterWeb is all about.
Easy-to-use content management system
Corporate website design and eCommerce capabilities often work hand-in-hand, whether your website sells directly to the consumer or to distributors on a wholesale level. Every website developed offers you, the client, the ability to manage and maintain dealers and website content through an easy-to-use content management system.
Dominate Desktop & Mobile
Bring your brands image to all devices. Our solutions perform on mobile, tablet and desktop.
Secure Code & Data
Utilizing the latest in development standards, security, and hosting, your data will always be safe.
eCommerce & Catalog Functionality
Allow customers to purchase products or display items in catalog mode. Learn more about our Learn more on our eCommerce web design services page.
Lightning Fast Speeds
Using the latest technology, we'll optimize images and code to load quickly for mobile users.
"MyBetterWeb helps us to promote our cafe menu to the local communities and that also attracted many online orders from as far as 40 km away form us. It's pretty much limitless in the ways that we can work with MyBetterWeb for the Email Marketing service they provide." - Busy Bakery Cafe
Deliver emails effectively
Flexibility of deployment online or onsite
Powerful multi-channel email marketing campaigns
Boost your customer base through your website
Price: from $300 / MYR1200 per month
Email marketing helps to fly above your competitors
In today world, when a person wants to buy any product or service, the first thing they will do is going online to collect the information about the product or service. So, it is very important for every business to appear in online searches in order to maximize the business. And email marketing is one of the effective tools in reaching your existing and potential customers with necessary information about your products or services. Globally businesses are using this technique in order to grow the business and create their online existence.
Reach your customers directly through email
We Offer direct email marketing services to our clients through which the information about your business, product or service is sent out more like a missile. Whatever you are selling, we can reach you to numerous potential customers directly through email marketing at reasonable cost.
Quicker, more persistent, more committed, and creative
At MyBetterWeb, we send the message of your business, product or service through appealing infographics, text and links directly to your potential customers who are not aware of your business or products or services, but are interested in your business area of expertise. You can easily track how effective our email marketing service is by keeping track of the number of hits your website gets after mass mailing.
| E-mailers | Basic | Advance |
| --- | --- | --- |
| Emailer campaigns per month | 10 | 20 |
| Emailer custom designs | Yes | Yes |
| Landing Page | No | Yes |
| Emailer leading to landing page | Yes | Yes |
| Reports of mail delivery | Yes | Yes |
| Total opening report | No | Yes |
| Website visitor count through mailers | No | Yes |
Busy Bakery Cafe gets around 1900 new leads within 3 months at an average of 21% growing rate every month.
"Our web site was done very professionally. We like the layout and the time frame was great. Also, the price was very reasonable. Thanks for all your time and effort you put into this. We probably wouldn't have a website even now if we didn't find out about you." - shishutours.fun
Price: $350 / MYR1400 per task
Make the most of your website
Your conversion rate is very possibly the most important website statistic. The website conversion rate is the number that affects your bottom line and drives the growth of your business. MyBetterWeb specializes in turning your eCommerce website visitors into customers via our website conversion rate optimization service.
Optimize the user experience and call to action
Through our team's expertise and analytical testing, we determine what changes your website needs in order to perform above and beyond industry standards. Whether you have an eCommerce website and are selling products online, or you're a service based business looking to increase leads, we've worked with clients who have faced the same scenarios that you're facing now. With ever-growing competition in the online space, it's important to stay on top of your game and have a company dedicated to your ongoing success.
SEO & conversion rate optimization effects
Understanding the connection between SEO and conversion rate is critical in any conversion optimization campaign. When searching on the web users are more likely to click and convert on results at the top. Typically, web users that go to the bottom of page 1 or to page 2, are merely "window shopping" and are not serious buyers. This connection drives down conversion rates and leads to worthless traffic. At MyBetterWeb our goal is to combine conversion rate optimization with SEO efforts to create a campaign that ranks, converts and sells your business better.
How is conversion rate optimization works?
1. Website audit
The conversion rate optimization process is similar to a search engine optimization experience. We start by having MyBetterWeb team members review your website and put together "red flag" items. These are issues that we understand to be major issues from the beginning.
2. Filter data
After we realize these and review them with the client, we fix the issues and move into an analytical phase.
3. Analysis site
Analytics allow us to determine traffic and visitor patterns on your website. Typical questions we ask are, "Where are visitors leaving?", "Why are they not checking out?" and "How can we be sure they call you?".
4. Fine tuning
By looking at statistics we can figure out where weak spots are in your website and begin to implement improvements.
5. Optimize further
It's an ongoing process of making changes, analyzing the results and continuing to increase the conversion rate month after month.