"I would certainly recommend MyBetterWeb and their A.I chatbot to anyone who has a customer facing website, the software is functional, easy to use and can only help your business improve its customer service." - Balthali Mountain Resort
The customer loves it because it respond within a few seconds.
They engage with the hotel in a live and contextual way.
Rich conversational data, for insights on customer satisfaction
The hotel knows who the customer is, what they have purchased before, and what their preferences are.
Price: $500 / MYR2000 per task
Enhance your guests' experience and leverage A.I as an additional revenue channel
The world has changed. 21st century travelers are always on and communicating via text, Twitter, WhatsApp, Messenger, email, and, yes, even the phone — often at the same time. They're 18 to 80 years old. They depend on mobile devices throughout all stages of travel. They prefer online and digital communication (Social Media) to human interaction. And above all, they expect speed in service delivery.
Deploy a chatbot for your hotel website
Chatbots can help hotels in a number of areas, including time management, guest services and cost reduction. They can assist guests with elementary questions and requests. Thus, freeing up hotel staff to devote more of their time and attention to time-sensitive, critical, and complicated tasks. They are often more cost effective and faster than their human counterparts. They can be programmed to speak to guests in different languages, making it easier for the guests to speak in their local language to communicate.
All these services available anytime – before, during and/or after the stay
Additionally, hotel guests can be encouraged to give feedback via an integrated review function. This way, hotels can collect their own hotel reviews directly from their guests, when the guest are still staying at the property (and not 2 days later). It also positively affects ratings on Tripadvisor & Facebook, of course.
How is A.I Chatbot for Hotel works?
1. A room reservation module (payments are subjective to certain countries)
2. A virtual concierge (FAQ, information about local bars and restaurants, etc.)
3. Promotion of internal services (room service, spa, etc.) to increase your RevPAR
4. Integrate external services such as food/supply providers or content providers such as Tourism Board agendas into the chatbot.
5. A review module that increase the number of positive reviews on Facebook.
Dom Himalaya is a famous boutique hotel in Kathmandu and they receive a lot of inquiries on Messenger daily. We build a chatbot for them to automate hotel booking process and answering to questions on the spot. You can chat with the chatbot here.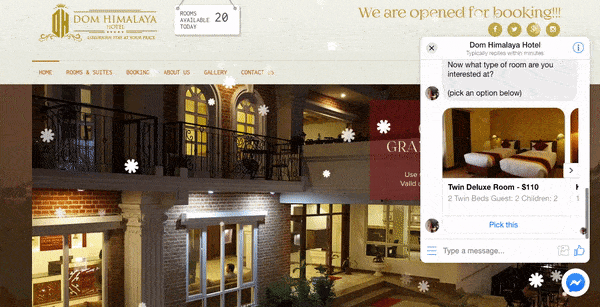 Balthali Mountain Resort is a luxury resort located on top of hill. We build a chatbot to not only handle room booking but also tour booking, event management and all kind of hotel services now on automation. You can chat with their bot here